Video Cloud Basics: Organizing Videos Using Folders
In this topic you will learn how to add videos to folders using the Media module.
Steps
Open the Media module.
In the side navigation panel, click the Create folder link.
Enter a name for the folder and then press enter.
To add videos to a folder, select one or more videos.

Click More > Move to Folder.
Click on a folder and then click Move.
All folders will appear in the left navigation. The number after the folder name is the number of videos in the folder.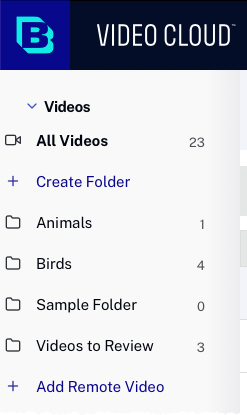 To remove videos from a folder, click on a folder, select one or more videos and then click Remove Videos > Remove Videos from Folder.